Pros:
Fairly easy to get a refund
(Hopefully) you found this review before buying the product
Cons:
One of the worst products I've seen
Lessons are EXTREMELY out of date
Lessons drag and are boring to follow
Ben nor Dave seem to have much expertise
Try to upsell you to $15,000 coaching
A completely ineffective and outdated approach to affiliate marketing
Review of Six Figure Program by Ben Moskel and Dave Clabeaux

Overall Grade: F
I can't tell you how offended I was by the Six Figure Program by Ben Moskel and Dave Clabeaux. I review a lot of products and, as I write this review, it is the lowest scoring product I have ever reviewed on this site (8 points out of 100). If you're looking for a way to get started in affiliate marketing (what this program is based on), I highly recommend you avoid this scam. It's one of the worst ripoffs I've ever seen. For details supporting all of what I've just said, please read below.
The Six Figure Program Member's Area
Immediately after paying the $27 fee to access the member's area, you'll be pitched a single upsell (not uncommon in this industry) that looks like this: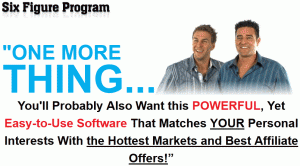 For those of you that are new to this industry, there is a 100% free service that does this called Offer Vault. You put in a search term like "basketball" for example, and it brings up all the related affiliate offers from multiple networks. But why would Ben Moskel and Dave Clabeaux tell you that when they can charge you for their software and make more money off of you? There is an even worse case of withholding information from you in order to further pad their wallets a bit later, but this was the first indicator of this program being a scam and I literally just paid. Off to a great start guys!
When you decline the offer, you're taken to the welcome video for the Six Figure Program member's area. This is a screenshot of that welcome video:
Just to be clear, my above comments are all completely sarcastic. I don't know about you, but I don't care if I pay $27 or $300 for a product like this – I want the videos I pay for to be high quality. Unfortunately for Mr. Moskel and Mr. Clabeaux, the quality of teaching in their Six Figure Program is just as low as the video quality.
Forced to Buy Their Recommended Hosting
In this video, Ben and Dave tell you that you absolutely CANNOT use any other hosting service than Brainhost, which they'll gladly refer you to using their affiliate link and encourage you to sign up for the two year plan (they receive a 75% commission on the $200+ sale). "You have to use Brainhost because we don't want you to get scammed," they say, followed by Ben telling you, "Don't email us asking if you can use another hosting company." Boy, they sure sound helpful! There are a ton of high-quality, reputable hosting services out there. They're simply forcing you to pay for Brainhost because it pays very well. In the past, they've used Hostgator and PowWeb which are not going to "scam" you like Ben and Dave make you believe. This is an example of an affiliate strong-arming you into buying a product that pays well rather than what might work best for you.
Ben and Dave promise to setup a website for you after you sign up for Brainhost, which really isn't anything special. All they are going to do is hop onto your account for a few seconds and drop off a template, which you can easily teach yourself to do. It sounds like a huge favor, but really it's nothing special.
Low Quality Video Lessons
After all of that is in place, you're ready to start sifting through the video lessons they provide to "teach you affiliate marketing". Here is a screenshot of the video lesson library directly from the Six Figure Program member's area: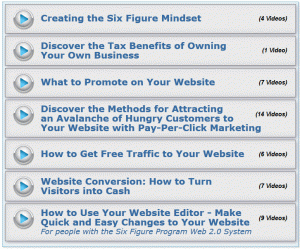 First of all, as far as I'm concerned the first three sections aren't very helpful because you can find all of this information for free using Google.
On top of that, almost anyone reputable in this industry will tell you to avoid pay-per-click (PPC) marketing in the early days because it's a good way to lose a lot of money and cause a ton of frustration if you're really new to all of this. Good thing that's the topic they cover in the greatest detail! These video lessons are extremely out of date and don't cover PPC in remotely the level of detail they should. You'd be much better off in the "Adwords Learning Center" (you can perform a Google search and find it easily), which is provided by Google free of charge.
Very Outdated, Simplistic Methods
The next section, "How to Get Free Traffic to Your Website", was the one I was most unimpressed by. The main reason for my success in affiliate marketing is my search engine optimization (SEO) knowledge, which is a fancy way of saying "getting ranked in the search engines". This is a free form of traffic, and something Ben Moskel and Dave Clabeaux attempt to cover in detail. I say "attempt" because they fail miserably. Just as the lessons on PPC were out of date, these lessons on SEO were way too old, covered the absolute minimum detail possible, and some of the worst lessons I have ever seen in my life. Here is a video screenshot of Ben and Dave trying to figure out how SEO, which was taken directly from the member's area:
This screenshot also serves as a terrific example of the low-quality video lessons they're giving you in exchange for your hard-earned money. I'm known for being candid, and I make no exceptions for this program. This is just disgraceful.
Among other things, Ben and Dave discuss things like the term "Chase rewards business card" being "less competitive", how you can submit a single article to "hundreds of directories", and talked about link exchanges as a valid option but then immediately corrected themselves as discounted it as a valid way of building links to get rankings in the search engines. If anyone reading this post can get ranked for the term "Chase rewards business card", I will bow down to them as a superior internet marketer. That is a very difficult term to get ranked for and it should have never been thrown out as an example in this member's area.
In my reviews, I always try to strike a balance between giving enough examples to support my harsh review and getting long-winded. I think I'm bordering on long-winded here, so let's conclude.
The Final Verdict
Ben Moskel and Dave Clabeaux's "Six Figure Program" is flat-out one of the absolute worst information products I have ever seen in this industry. Everything they teach you is extremely outdated, the video lessons are of extremely low quality, and half of the time they're stuttering and fumbling over their words in a way that makes you wonder if they even know what they're talking about.
After forcing you to sign up for hosting through Brainhost instead of allowing you to use any existing hosting you already have, they never even show you how to setup a website yourself. As far as I'm concerned, anybody selling a product to new affiliate marketers should be required to teach you the basics of working with your server and simple web design. It's an essential skill for any affiliate marketer and by setting you up with one of their templates they are just giving you a fish, not teaching you how to feed yourself for the rest of your affiliate marketing career.
In addition to not teaching you about web hosting and design, they fail to mention competition research a single time and don't talk about analytics at all! When you're brand new to this industry, those are two of the absolute most important things to learn. They ensure mistakes are minimized, as little time as possible is wasted, and allow you to see what's going right and what's going wrong when visitors come to your website.
After they fail to teach you, well, pretty much anything of value, they refer you to a $8,000-$15,000 coaching network called "Prosper" where they are on the coaching staff. If I paid upwards of $10,000 for a coaching program and received one of these guys as my coach I'd be FURIOUS. As far as I can tell, these are a couple of guys that got into affiliate marketing in the early/mid 2000's when it was a hell of a lot easier, washed out of it once it got difficult, and decided the best way for them to continue making money in affiliate marketing was to develop a half-baked product and sell it to well-intentioned people across the world trying to get a new start. They're preying on hopeful people trying to change their lives, and as far as I'm concerned that should be a criminal offense.
In summary, many of Ben Moskel and Dave Clabeaux's video lessons are like watching Dumb and Dumber have a conversation. Somewhere in between one half-clueless person asking a completely clueless person questions about affiliate marketing you're supposed to learn how to make money in this industry. When both of them aren't on-screen and you can only see Ben teaching you on his computer, the methods he teaches are out of date, annoying to watch, and very sub-par compared to many other programs I've seen in this industry.
There's just no way I can justify paying $27 for this product. If you were thinking about it, save your money. Anyone taking another person's money for this caliber of product should be ashamed. And if Ben and/or Dave see this personally, update your lessons and improve the quality and I'll re-review your product here on the blog just so you can't say I'm being a complete a**hole.
Details at a Glance
Product: Six Figure Program
Sales Page: http://www.sixfigureprogram.com/2012/
Publisher: Ben Moskel and Dave Clabeaux
Score: 8/100 points
Original Rubric: Six Figure Program Review
My Original Purchase Receipt for Six Figure Program: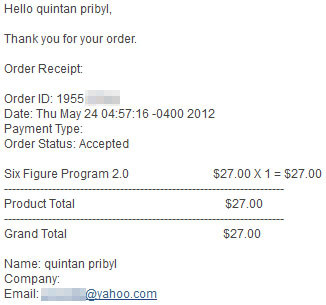 Have a question or comment about this program or anything else in this industry? Feel free to reach out to me using my contact information or comment directly on this post below.
Six Figure Program
reviewed by
Ian Pribyl
on .
Summary:
These guys got shut down by the FTC for a reason
Description:
Six Figure Program by Ben Moskel and Dave Clabeaux is one of the most blatant ripoffs I've ever seen. These guys are clueless – Details in this review.
Rating:
1
out of 5.