(text transcript of this video review is below)
Review of Mobile Money Code by Greg Anderson
On the Mobile Money Code sales page, Greg Anderson asks you to watch as he secretly reveals his "secret" weapon—and I don't know about you, but I'm not exactly sure that's something I want to see.
A Very Bad First Impression
Your first impression of the Mobile Money Code member's area is that Greg Anderson has put together a sort of an action plan of eight different steps. Step number one is for you to click a link and watch a webinar. And, as one might suspect, when you click that link you are taken through to a webinar where Greg Anderson talks to you about the subject matter of how to make over $10,000 a month in internet marketing.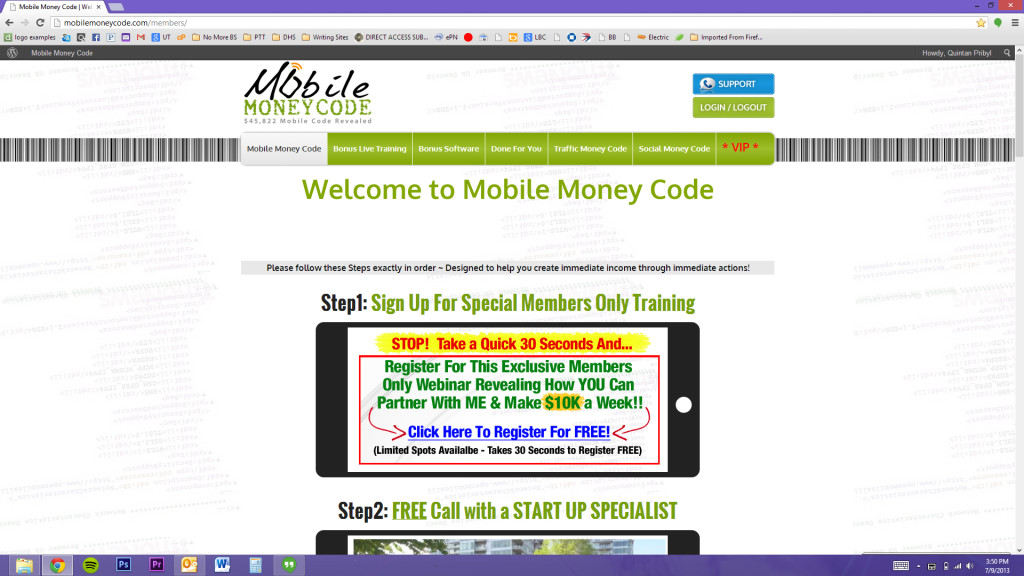 Now, the only real problem here is that below that video there's a tiny link, and it's a sign-up link for Empower Network. Now, a lot of you watching this video probably are familiar with the Empower Network and I personally have made my opinions very well-known on the internet and posted a review for it—and if you want to find it, you can; it's out there—but this is a Mobile Money Code review.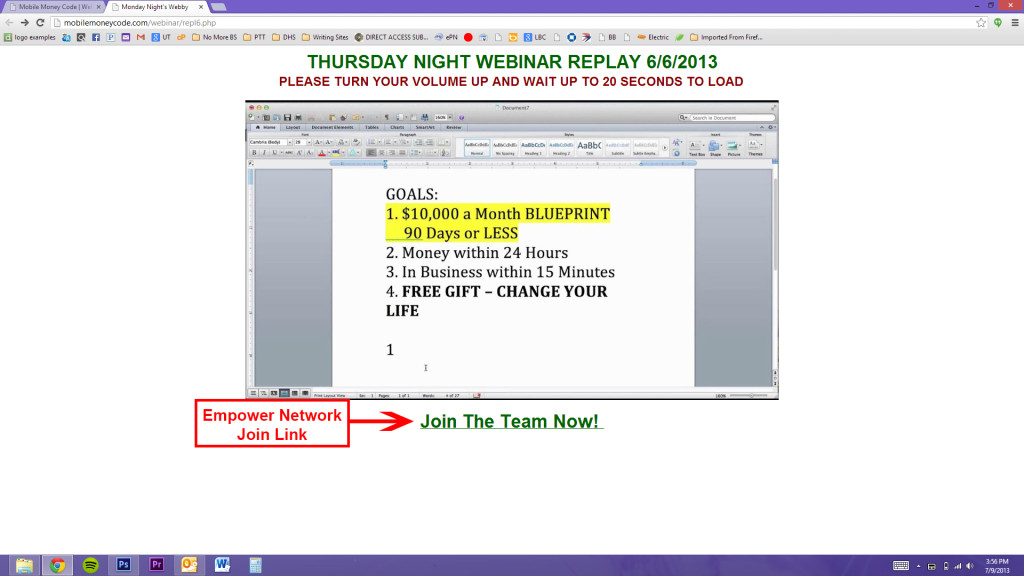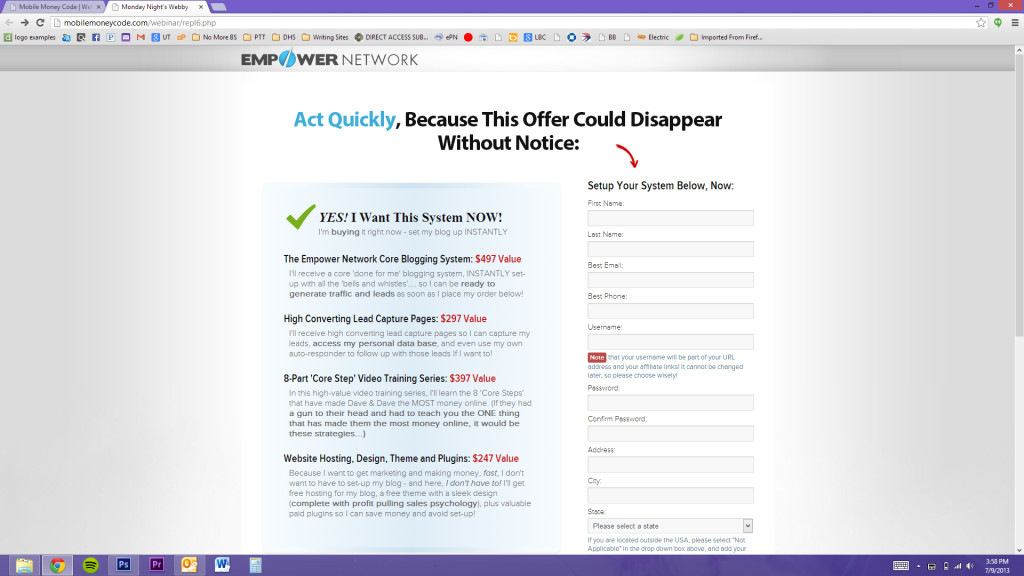 The thing I want to point out here is that step one, when you got into the member's area, wasn't to welcome you to the member's area and kind of walk you through a few things. His first priority wasn't to kind of get you as pumped up as possible with a really good piece of training. Greg Anderson's priority, when he got you into the Mobile Money Code member's area was number one, to get you into another product. Make more money off of you. If you signed up for the Empower Network, you would be set into a sales funnel that could effectively end up costing you $5,145 or more—and that was Greg Anderson's first priority when he got you in the member's area. It wasn't to welcome you, it wasn't to give you a really good piece of training; it was to up-sell you to something that would make you more money. It's that type of mentality from product publishers—more money, more money, more money—that makes for really bad products.
But If You Move Past that Impression…
Now, even if that upset you a little, even if that ticks you off a little, you think to yourself, "Okay, I'm' going to center myself, I'm going to find my Zen, I'm going to go back to the homepage and I'm going to look through those other seven steps…because there are eight total, and that was just the first one. Alright, I can forgive this." And you move on and you start to explore those other seven steps in the eight step action plan in the Mobile Money Code homepage, and what you find is of the eight steps, seven of them—so 87.5% of the links in the Mobile Money Code member's area—are just up-sells. They're just links to other affiliate offers or up-sells within Mobile Money Code that are going to make Greg Anderson a little bit wealthier.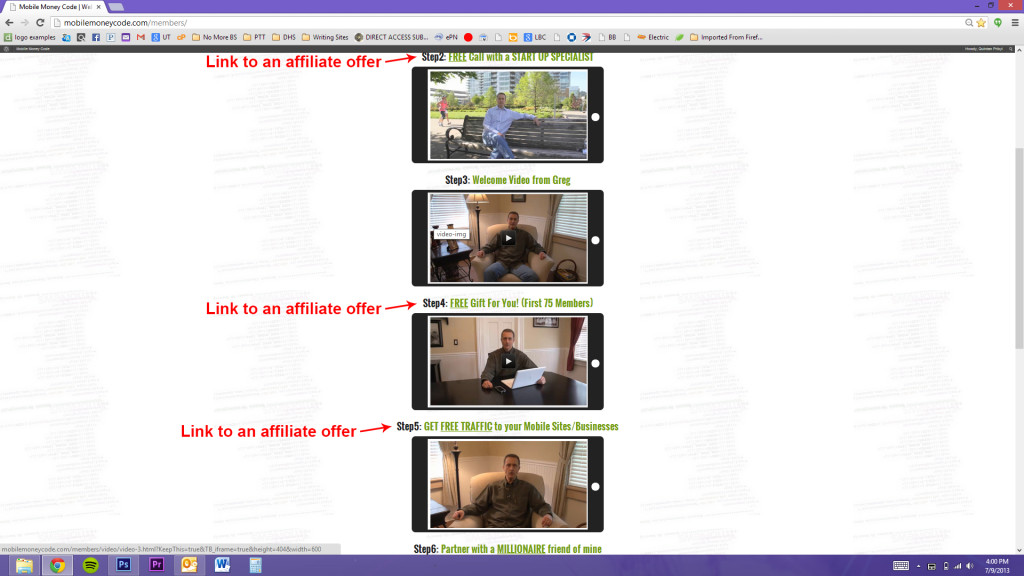 So, again, what you've encountered, instead of someone setting you up with training—there is a welcome video about halfway down those eight videos, that's the only one that isn't an up-sell or a link to an affiliate offer—instead of trying to get you acclimated or trying to give you some good lessons, their launching pad, the core, the homepage of Mobile Money Code is just another page, link after link after link, to make the product publisher as much money as possible.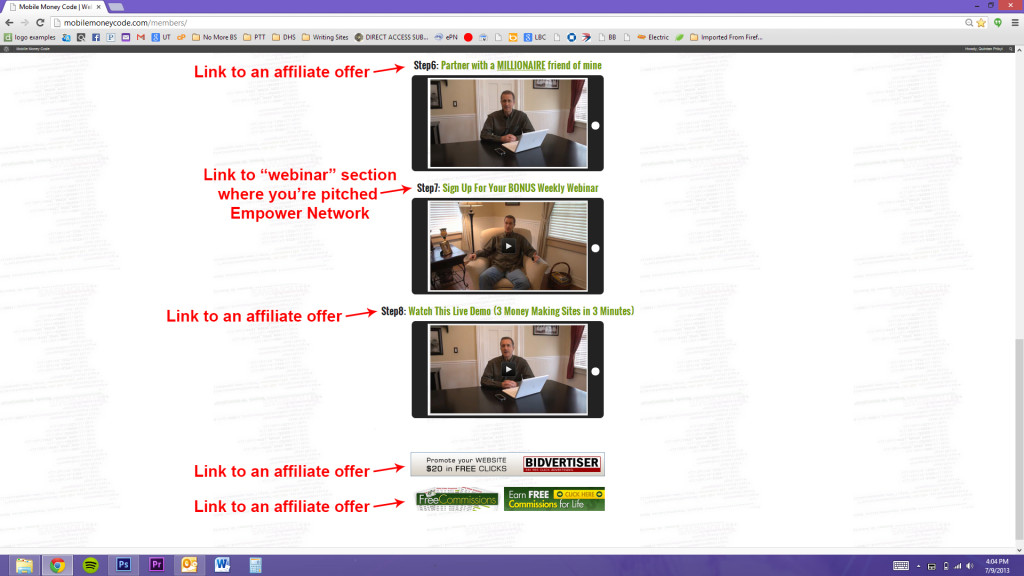 If Somehow You're Not Giving Up Yet…
At this point, you're probably pretty thoroughly ticked off, but there are going to be some people that get into the Mobile Money Code member's area who give it the benefit-of-the-doubt; they center themselves again, they find their Zen, and they say, "Okay, there are other tabs. I'm going to check out these other tabs…" and what they find quickly, as they start going through those other tabs, is that it's just PLR content. If you don't know what PLR stands for, PLR stands for "Private Label Rights" content, and it's something that, unfortunately, I encounter quite a bit when I'm reviewing internet marketing products.
PLR content is something that someone can just go buy (so Greg Anderson or whoever the product publisher is in this case, they're calling themselves "Greg Anderson); they just buy a package of video lessons and they dump it in the Mobile Money Code member's area. They do that to fill-out the product, to try and make people think—basically to confuse people— making them believe that they got something for their money. It's really the coward's way out when you're developing a product.
This whole product, the entire mobile money code member's area, probably took someone about a day, maybe two days to put together. This was just thrown together, a sales page was put up, and the main purpose of Mobile Money Code is to make someone more money. It's not to help you, it's not to teach you, and it's certainly not the system that you were promised on the sales page that you can set up, that will turn you into an internet millionaire. That's just not the case here, unfortunately. You were sold one thing, you were delivered something completely different and the problem overall is just a complete sham.
The Final Verdict (Even Though I Think You "Get It")
With all of that being said, though, just for the sake of tradition, my final verdict—what do I think about Mobile Money Code? What do I think about Greg Anderson? Well, I'm going to limit myself here because I've talked to my lawyer about this in the past and I have to be careful about some of the things I can say, but it really boils down to—you absolutely should not buy Mobile Money Code. There is no way in the world that Mobile Money Code is worth a dollar. It's not worth anything; you're essentially being charged to be presented with a bunch of different up-sells, and that's what it really boils down to. Mobile Money Code by Greg Anderson is not something that anybody should consider buying.
If you have any questions or comments about this review, feel free to send me an email using my contact page, call me, or comment on this post below! I do the absolute best I can to be a free resource for new affiliate marketers that are trying to change their lives and avoid getting scammed in this dog-eat-dog industry!
Info Cash
reviewed by
Ian Pribyl
on .
Summary:
Mobile Money Code is about as crappy of a program as money can buy.
Description:
There is no real content of value or "system" like you were promised in Mobile Money Code by Greg Andreson. Details in this review…
Rating:
1
out of 5.