The IM Wealth Builders team promotes Covert Store Builder as the world's best self-optimizing affiliate store that will spew out cash like a broken ATM. Unfortunately, the only things broken are some of Cover Store Builder's features, so the day that you'll start raking in affiliate paychecks is not around the corner. You may be impressed with the slick look of the affiliate store's theme, but I'll explain below why you shouldn't expect to make money on autopilot with Covert Store Builder.
The "Good" Part
When you first enter the members' area for Covert Store Builder, you may be impressed by the strong video training that is provided. You'll receive helpful information about how to download the theme you'll use for your affiliate store, and step-by-step instructions on how to get your site running.

This theme has some great additions to the standard affiliate stores used by marketers, and hopefully these features will be integrated into other affiliate store themes. For example, there is a self-optimizing function which gives priority to the store's most popular products, and the theme integrates well with social media. Also, new members can be added automatically, and with the wish list function they can share products they like on Facebook and Twitter.
Credit should be given where credit is due, and Covert Store Builder is a decent looking theme with some nice features.
Inaccurate Prices
Unfortunately, once your site is up and running, you'll notice some major flaws that will hurt any chance you have of making money. The biggest issue is in regard to the prices that are displayed in your affiliate store vs. the actual list prices on Amazon.
Below is a screenshot taken from a niche store of an affiliate website using the Covert Store Builder theme. I've highlighted a sample product from the affiliate store, which is a solar lantern that is listed at $54.99.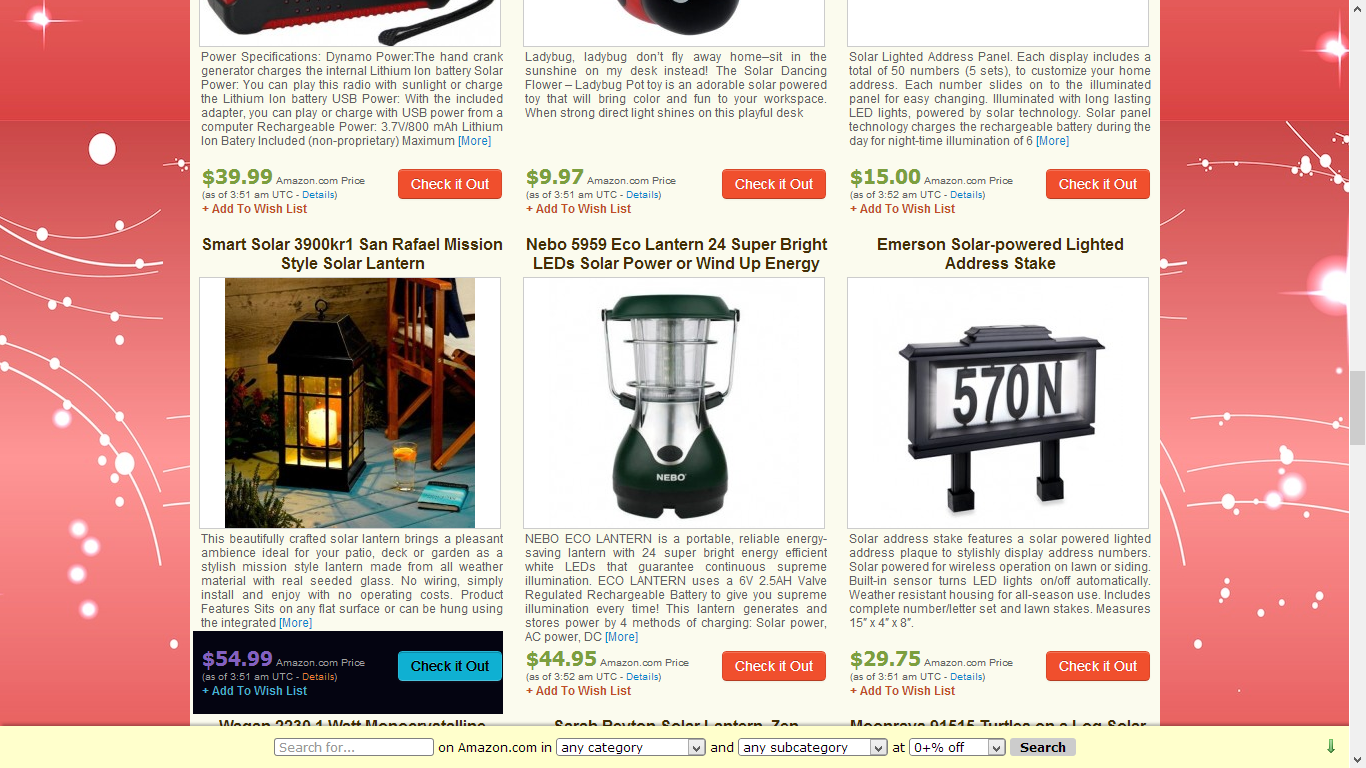 The problem is that changes often occur to prices of Amazon products, but the Covert Store Builder theme will not automatically update your store's prices. The solar lantern that is listed at $54.99 actually costs $73.00 when you click the link to check it out.

This leads to a terrible experience for your customers, since they are being lied to about the price of a product that they want to buy. Don't expect to sell any products when there such a great discrepancy between your website and the actual Amazon list price.
Definitely Not Automated
The IM Wealth Builders team promote Covert Store Builder as an affiliate store which works on autopilot. They say that you can have your store "up and running" within 5 minutes, and the impression is that you'll be earning money very quickly.
The information that they leave out on the sales page is about the tremendous amount of time and effort it will take to get traffic to your Covert Store Builder affiliate site. Traffic does not come on its own, and if you want advice on how to bring visitors to your affiliate store, you'll have to pay a lot more money for it.
The members' area is filled to the brim with products that the IM Wealth Builders would like to sell you, and they all cost money. Your training on how to bring in traffic is not included with the money you spent on Covert Store Builder.

You're out of luck if you think that the automated content from your Covert Store Builder theme will be enough to bring in visitors. Even the IM Wealth Builders team recognizes the need for unique content as you can see in the paragraph below taken from a Covert Store Builder webinar. Without unique content, your website will rank extremely poorly in search engines and you will not have organic traffic. Adding unique content takes time and effort, and it is definitely not something that will be automated in five minutes.

Final Word: Not Enough Here To Make Money
The IM Wealth Builders have created a product that is a good foundation for making money through an affiliate store. The theme looks professional and sleek, and there are some user-friendly features that are integrated as described above.
Unfortunately, Covert Store Builder still has a long way to go before its users will start making money. First, there needs to be a way for the affiliate store to automatically update the prices of your products, or your customers will be turned off by the inaccurate prices. Second, this product is not as automated as it claims, and you'll need to spend a lot of time creating unique content for your affiliate store. However, Covert Store Builder will not help you with that part of the job, and you'll have to spend even more money on other products.
What's Your Feeling?
Are you a user of Covert Store Builder or someone looking to buy an automated affiliate store? How do you feel about a product which doesn't get the entire job done and tries to sell you additional products? Let us know by sharing your thoughts in a comment below!
Covert Store Builder
reviewed by
Ian Pribyl
on .
Summary:
Covert Store Builder's sales page writes a check that the product can't cash.
Description:
A full review of the Covert Store Builder theme and affiliate store (with screenshots), and why there are MAJOR flaws in this IM Wealth Builders product.
Rating:
1.5
out of 5.