Legit Online Jobs calls itself a work from home program that doesn't require any prior skills or work experience beyond basic computer knowledge. According to the sales page, you'll be "posting ads for companies" and believe that it "runs virtually on autopilot." Once you pay for membership, you'll see why these claims couldn't be further from the truth.
The system that they're promoting is actually just Clickbank—which is completely free to join—and the strategy that they recommend will never work. There's absolutely no training provided and the website is a disgusting knot of dead links, making this product one of the worst work-from-home products that I have ever seen. Read about that and so much more in today's Legit Online Jobs review.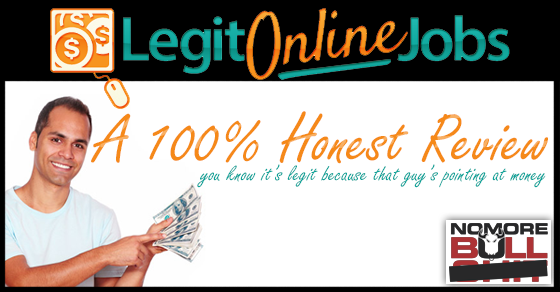 Why Legit Online Jobs' Sales Page Is Full Of Crap
The Legit Online Jobs sales page is very clear that, if you buy the system they're selling, you'll be earning money by posting short text ads for companies. They stress this time and time again, as I've highlighted in the screenshot below.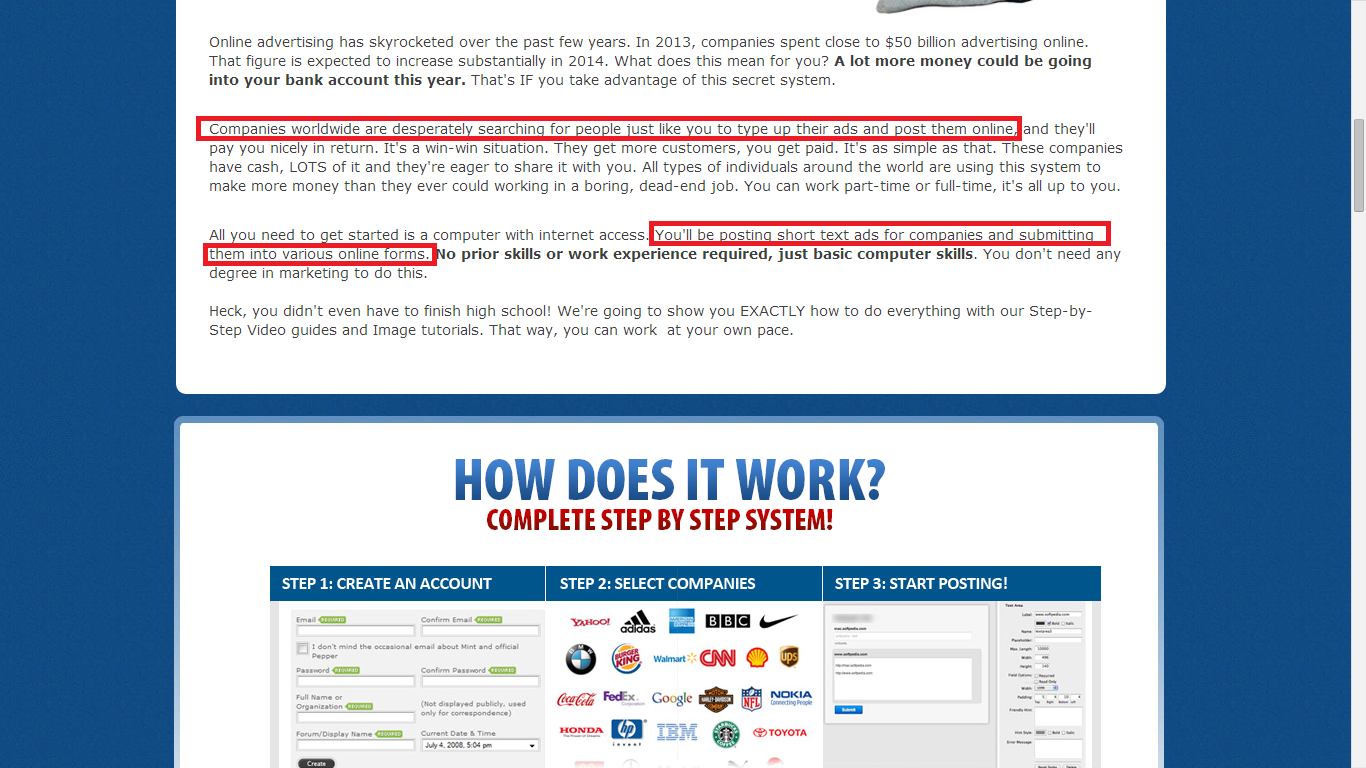 Judging from the sales page, it seems clear that this is some sort of data entry job where you'll be typing ads for the corporations whose symbols you see in the screenshot above. That's why you're in for a big surprise once you pay for membership, since you'll discover right away that Legit Online Jobs actually has nothing to do with what they claim to be selling.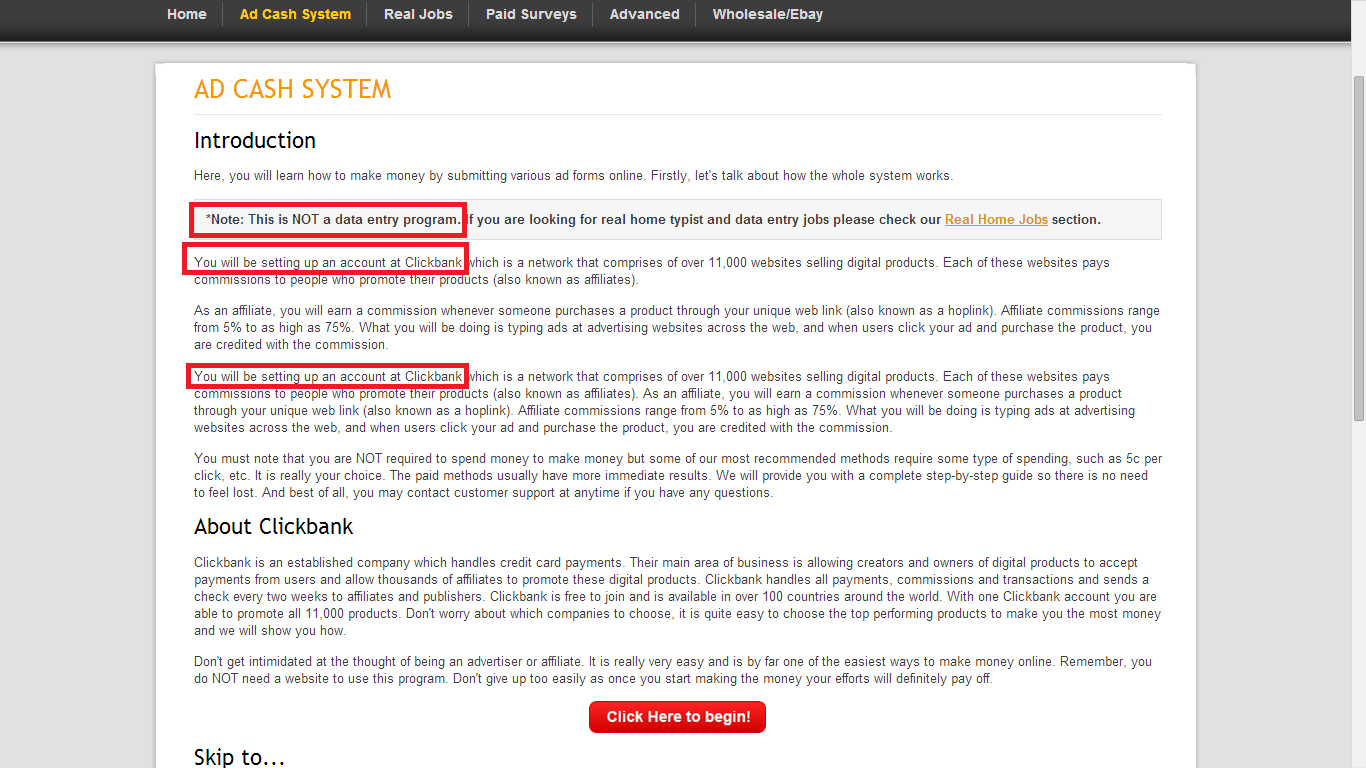 Instead you'll be setting up an account with Clickbank, which is far from the "secret system" on the sales page. Clickbank is the most well-known marketplace for digital information products in the entire world, and more importantly, it's completely free to join. The process is explained very clearly on the Clickbank site, and there's absolutely no reason to pay Legit Online Jobs to sign up for a Clickbank account.

Their Clickbank Strategy Is Completely Hopeless
Now that you know how incredibly misleading the sales page is, it's time to take a look at the strategy that Legit Online Jobs recommends. Clickbank is about promoting products as an affiliate and making commissions, which can be a complicated and time consuming process. It couldn't be further from the "virtually autopilot" system promised on the sales page.
They recommend posting ads on free classified sites, which is extremely unlikely to result in making sales. I can't stress enough how unlikely this system is to earn you money, since it'll be nearly impossible to convert this traffic into commissions. Sales will only come from highly targeted traffic, not a random three-line ad on Craigslist.

 It's an even bigger red flag that they recommend setting up paid ads as a way of seeing faster results. Paid ads are very unlikely to result in commissions unless you're a seasoned internet marketer (something that Legit Online Jobs doesn't train you for at all) than free classified sites, and here you'll actually be losing money in the process.

 Earning money with Clickbank takes internet marketing skills, an effective strategy, and time. Legit Online Jobs doesn't help you with any of these, and instead makes it seem like you just need to post short ads—that's pure fantasy.
A Confusing Mess Of Dead Links and Useless Information
Besides the hopeless Clickbank strategy, Legit Online Jobs also promotes a few other ways of earning money online. These include data entry, paid surveys, and selling on eBay. For each of these methods, there's a similar pattern to the one described above. Basically they just dump dozens of links (many of which don't even work) to information that you could find for free without a membership, and then call it a "strategy" for earning money online.
For example, I clicked on the eBay section and selected "books & magazines" as the category of products to resell. I was then provided with this endless list of links to sites that sell books. Many of these links are dead, and even the ones that work are helpless, because there's zero training provided about how to earn money by selling books. These links are worthless without training, and there's zero training provided.

The same is true about their paid surveys section. It's just a massive list of links, many of which lead to dead sites. You could've just Googled "paid survey sites" and found a similar list (or a better one), so there's absolutely no reason to pay for Legit Online Jobs membership for this type of free information.

All of the information you're given within Legit Online Jobs can be found for free, and there's no getting around the fact that there's not a single viable strategy for earning money online anywhere on the entire site. Instead of providing valuable content, they dumped massive lists of links into the members area to overwhelm you and act as if that's enough to charge for a product.
Conclusion: Legit Online Jobs Is Completely Worthless
The Legit Online Jobs product has nothing to do with the work-from-home program that they promote on the sales page. You won't be posting short ads for companies – you're  just handed a pathetic, completely ineffective strategy for earning money through Clickbank. All of the "information" you're given can easily be found for free, and the website is horribly disorganized and full of dead links. There's not a single word of valuable training on the entire site, so I encourage you to stay away from this absolutely worthless product.
Interact with Me and the Community!
Did the sales page have you thinking that this was a legitimate work from home opportunity? Has this review cleared up why there's absolutely nothing to gain by paying for Legit Online Jobs membership? Share your thoughts by leaving a comment below!