Preface
This review is definitely going to to be different than most of my reviews here on NoMoreBSReviews.com (in a few ways). First of all, you'll see above that I posted an affiliate link and I receive 50% of your purchase. I'm not saying everyone should buy this product and it does not receive a "universal recommendation" from me. I'm not saying the product is a scam either, but to know whether or not it's right for you'll need to read over this review.
Also, you'll see that I posted two rubrics above: one for people relatively new to internet and affiliate marketing and one for people that are more experienced. If you've built websites, set up hosting, set up email campaigns, created and uploaded videos, know how to write good sales copy, etc… than you should pay attention to the review for "Not-so-newbies". If you haven't done any or most of the things I just listed, the rubric that applies to your situation is the first one (for newbies). It will become evident why this distinction is necessary throughout this review.
If you've read any of my reviews in the past, they were very likely negative. Very few products I review receive a stamp of approval because my review process is very thorough and strict. Even though I think this product is leaps and bounds ahead of most, my recommendation still comes with some stipulations. With that being said, let's get down to business!
Sales Video
At first, the website hit me pretty negatively. There are a few "design sins" taking place here to say the least and it doesn't exactly instill confidence. Still, Chris Farrell's sales video is very refreshing compared to most products. No promises of millions. No promises of "little" or "no work". He even says it took him six months of due diligence before he started making money in this industry. Farrell just tells his story and invites you to take a look around the website. The only red flag that went up in my mind was when he says he made one million dollars in 24 hours upon his first product launch. But it's possible in this industry (just very hard to do), so I moved along with my purchase of the $4.95 trial for seven days.
The Product – The Chris Farrell Membership
Here's the part of this review you probably care about. The member's area is pretty overwhelming at first glance. There is A TON of content and without direction you wouldn't know where to start. Although it could all be organized a little better, Chris does a pretty good job of giving you direction on where to begin in the member's area. One of the things I liked most was when you login the first time, Farrell basically says, "I know this is pretty overwhelming. Take a deep breath, it's all going to be okay." There are a lot of things you need to learn to be successful at internet marketing. You have to train yourself to be a "Jack of all trades" and that can be pretty intimidating on the front end. But once you get started chipping away at it all, you've cleared the mountain before you know it.
The first impression you're given when you login the first time is great. Farrell calls very blatant attention to the steps you need to take to cancel your membership, which is basically saying he knows his stuff is good enough that he's not going to stand in your way if you'd like to leave. This is how clearly he outlines and emphasizes the ease of canceling your membership: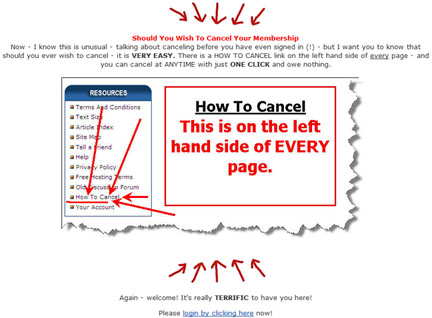 I started in the "21 Days to Success" section of the website. I was pretty impressed and immediately saw how valuable a lot of this information would be for someone fairly early in their internet marketing journey. In this part of the Chris Farrell Membership area, you're taught basic things about the internet, how websites work, how to edit pictures, how to set up hosting, how to set up an FTP client, how to set up an email campaign, the basics of traffic (including a little about search engine optimization), installing analytics on your website, etc…
There is a lot of very useful information here and if you tried to hunt it all down on the internet, it would probably take you weeks if not months. It's also arranged very efficiently which cuts a lot of time out of the learning process. This was by far my favorite part of Chris Farrell's membership area, and I believe it is the perfect "jumping off" point if you don't know how to do half of the things I listed above.
The only problem I have is the fact that Chris called this section "21 Days to Success" which makes it sound like you'll be making money in 21 days. "Success" in this case is better defined by your ability to accomplish most of the tasks internet marketers execute on an average day.
There is also a whole slew of content outside of the "21 Days to Success" that serves as a good introduction to many other things you will encounter in this industry. Basic keyword research, the very basics of video marketing, a little bit about search engine optimization, etc…
"So If You Love It So Much Ian, Why Don't You Just Marry It?!"
Everything I've said above is 100% correct if you're fairly new to this industry and don't have everything I've mentioned up to this point figured out. If you're more experienced and you've done most of those things, then you should not buy this product. Does that make the Chris Farrell Membership a scam? Well, no – not even a little. It just means this membership doesn't universally fit everyone.
Chris Farrell's program is lacking in advanced content. It serves as a very good introduction to this industry, but if you're looking for something outside of that, you're probably better off holding on to your money. Here are a few examples of where this program falls short concerning advanced content:
Keyword Research – Although Chris shows a very large amount of ways to discover keywords and niches, not a single time does he mention competition or anything about researching competition. That and he does all of his keyword research in "broad match" mode, when pretty much anyone that does niche marketing and keyword research knows to do all of their research in "exact match" mode. This could be detrimental to a newbie in this industry because broad search might showyour key term has 45,000 monthly searches, but only 380 people are actually looking for that exact key term each month (which is what "exact match" reveals). Using exact match and researching competition are crucial practices when performing niche/keyword research. This is the first way Chris Farrell's membership failed concerning advanced lessons in my opinion.
Search Engine Optimization (SEO) – If there's one thing I'm huge about in this industry, it's SEO. Yes, it requires a lot of hard work and most people don't understand it very well. In the Chris Farrell Membership, you're given a very basic introduction to SEO but it is far from comprehensive. There is even a point when Chris says that getting top rankings on Google "Isn't very difficult" which isn't true at all in my opinion.
These videos appear to be somewhat outdated and the information within them used to be somewhat true, but now it is very far from the truth. Many of Chris Farrell's rankings in the program are achieved using article marketing, but articles don't rank near as well as they did before the Google "Panda" update several months back. Although this used to be a fairly valid approach to achieving rankings, it isn't any longer.
Video Marketing – This was the third thing to catch my attention negatively. Again, this serves as a very good introduction to someone that hasn't had any experience with internet marketing or creating/uploading videos to YouTube. Outside of that, things don't go much further in Chris Farrell's membership area. Many people have the false perception that video marketing is simply uploading a video to YouTube, but there's much more to it than that. There are complete books and blogs written about video marketing, so essentially the Chris Farrell Membership doesn't teach you video marketing, they teach you how to create a video and upload it to YouTube. That's just scratching the surface of video marketing.
This pattern continues throughout the membership area for using social media, social bookmarking, etc… I want to be clear that I'm not saying the information Chris Farrell teaches in this program is completely false or a scam by any means. I'm just making the point that many areas of content within the program teach you the basics of what you need to know and serve as a foundation. You will outgrow it within a few weeks if you are diligent in your studies and you will need more advanced supplement material past that point (which can be found on the Warrior Forum and many other places for free, as well as some paid programs after you've developed your basic knowledge). That's far from being a scam.
The Final Verdict
The Chris Farrell Membership does a lot of things very well. It is clear that Chris takes a lot of the money he makes and puts it right back into the membership area. Many scammers in this industry take your money and run for the hills as fast as they can. Farrell does far more than the minimum someone might expect at this price level which is very impressive to me and shows he isn't trying to scam anyone. He also has an incredible support team (the best I've ever seen) which answered my email within 15 minutes of my sending it on a Saturday afternoon; hence the five bonus points on my grading curricula.
This program is nothing shy of excellent IF you are fairly new to this industry. I don't say positive things like that lightly either, and you know that if you've seen any of my other reviews. But if you have a decent amount of experience in this industry and know how to accomplish much of what I've mentioned throughout this review, this program will likely not add much to your internet marketing repertoire.
Another thing that is clear through the sales page and the rest of the Chris Farrell Membership is that this program is not a "get rich quick" scheme. If that's what you're looking for, you should look somewhere else (hint: you're going to waste a lot of time and money looking). Internet marketing is usually a lot of work, but it is very fun and allows you to make great money while being your own boss. Even though I rated this program a 30 out of 35 on its likeliness to make you money, you're still going to have to put in a good amount of work to get there. Information prepares you for success, but to achieve success you have to be determined, consistent, and willing to put in the hard work that is necessary.
If you're seeking fairly advanced to advanced information, the Chris Farrell Membership is probably not a good fit for you. Save your money. Again, it is far from a scam and the program serves as a great foundation for someone new to this industry, but you should look elsewhere if that doesn't interest you.
Details at a Glance
Product: Chris Farrell Membership
Sales Page: http://nomorebsreviews.com/chris_farrell_membership (<–affiliate link)
Publisher: Chris Farrell
Score: 85/100 points
Original Rubric: Chris Farrell Membership Review (For Newbies)
Chris Farrell Membership Review (For Not-So-Newbies)
View my receipt for the Chris Farrell Membership

Not sure if the Chris Farrell Membership program will be a good fit for you based on what I've said above? You're always welcome to contact me by commenting on this post, emailing me, or calling me at my office. I always enjoy interacting with my community and helping any way I can!

Chris Farrell Membership
reviewed by
Ian Pribyl
on .
Summary:
A decent product for beginners, but has many drawbacks
Description:
A 100% honest, detailed review of Chris Farrell Membership that explains the strengths and weaknesses of the product (there are many of each).
Rating:
3
out of 5.