Alex Krulik claims on the Magic Submitter sales page that it's a proven system which is 100% guaranteed to dominate every single niche in Google. He must not have read the latest Google updates, since now Google "slaps" any website that uses automated link-building tools like Magic Submitter. Also, Magic Submitter gives you backlinks that won't help your site improve its search engine rankings, and you'll have to spend a lot more on additional products.
Automated Links Can Kill Your Site
Alex Krulik says that Magic Submitter will help your site rank for whatever keywords you're going for. It works by automatically setting link-building campaigns so that your website will get more backlinks without you doing any work.
Maybe this technique worked in the past and maybe it didn't, but now Google has been very clear that this type of link-building will no longer be tolerated. Google takes this type of violation extremely seriously, as can be seen in the screenshot below of the Google Webmasters Guidelines.

If you listen to Alex Krulik and use software like Magic Submitter, Google will do a magic trick of its own and make your site completely disappear from its search engine. Link-building is hard work and very time consuming, and you shouldn't believe claims of there being magic shortcuts out there.
If you try to take one of these shortcuts like Magic Submitter and automate your link-building, you run the risk of having your site completely removed from Google's index. That will be the end of your site's traffic, period.
Hidden Expenses Add Up
Alex Krulik tries to pass off Magic Submitter as a product that only costs $4.95, but in reality it costs a whopping $67 a month. That's a lot in its own right, and Alex Krulik justifies the high price of Magic Submitter by playing off a long list of features it supposedly comes with.

From the sale page it seems that once you buy Magic Submitter, you'll be good to go. But that's not the case and there are a lot of hidden expenses along the way that add up to a significant amount of cash.
For example, once you've purchased Magic Submitter and are running the product, you'll find that you have to pay more to setup indexing in order for the product to really work. That costs either $14.99 a month or $17.97 a month depending on the service that you choose, but there's even more.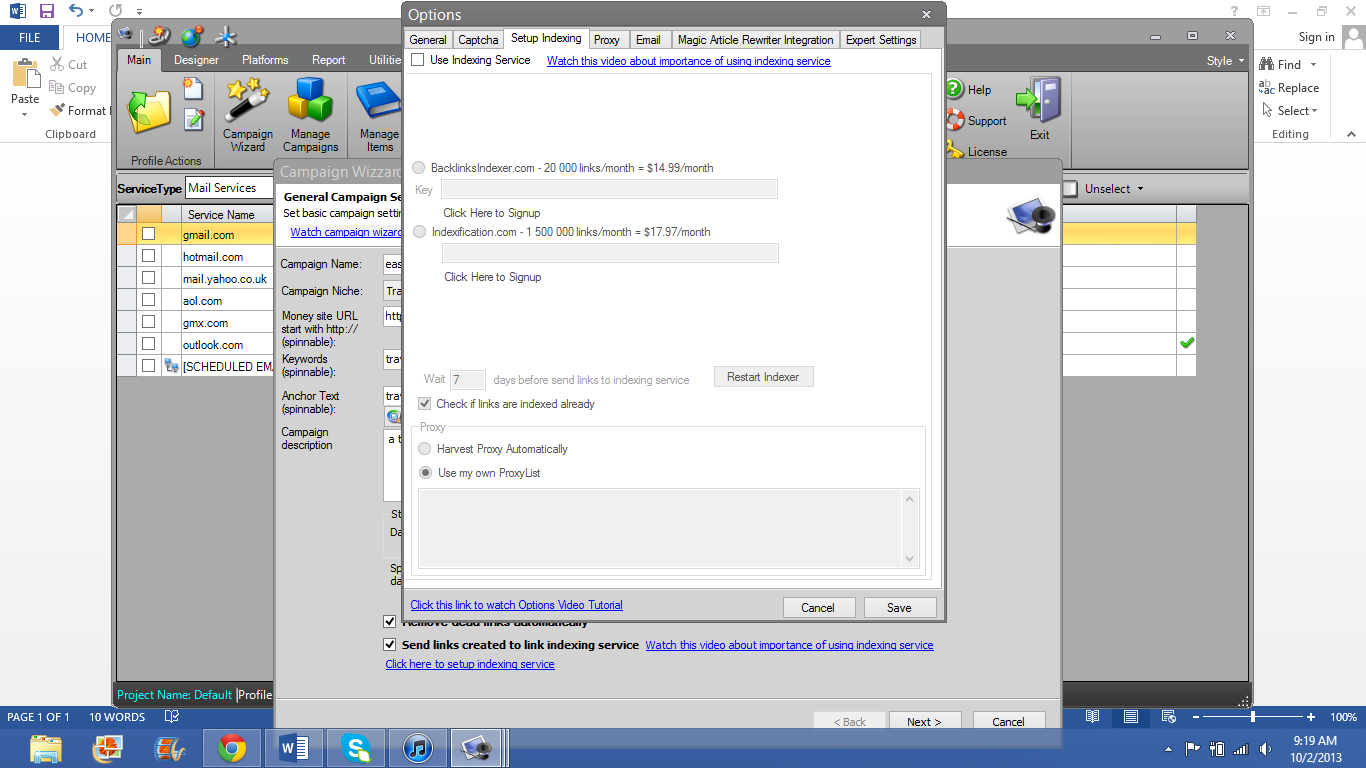 Alex Krulik also recommends you purchase another one of his products called Magic Article Rewriter in order for Magic Submitter to really do all that it can. You don't even get it for free after purchasing Magic Submitter even though it's needed for the product to work its "magic" and you have to spend another $47.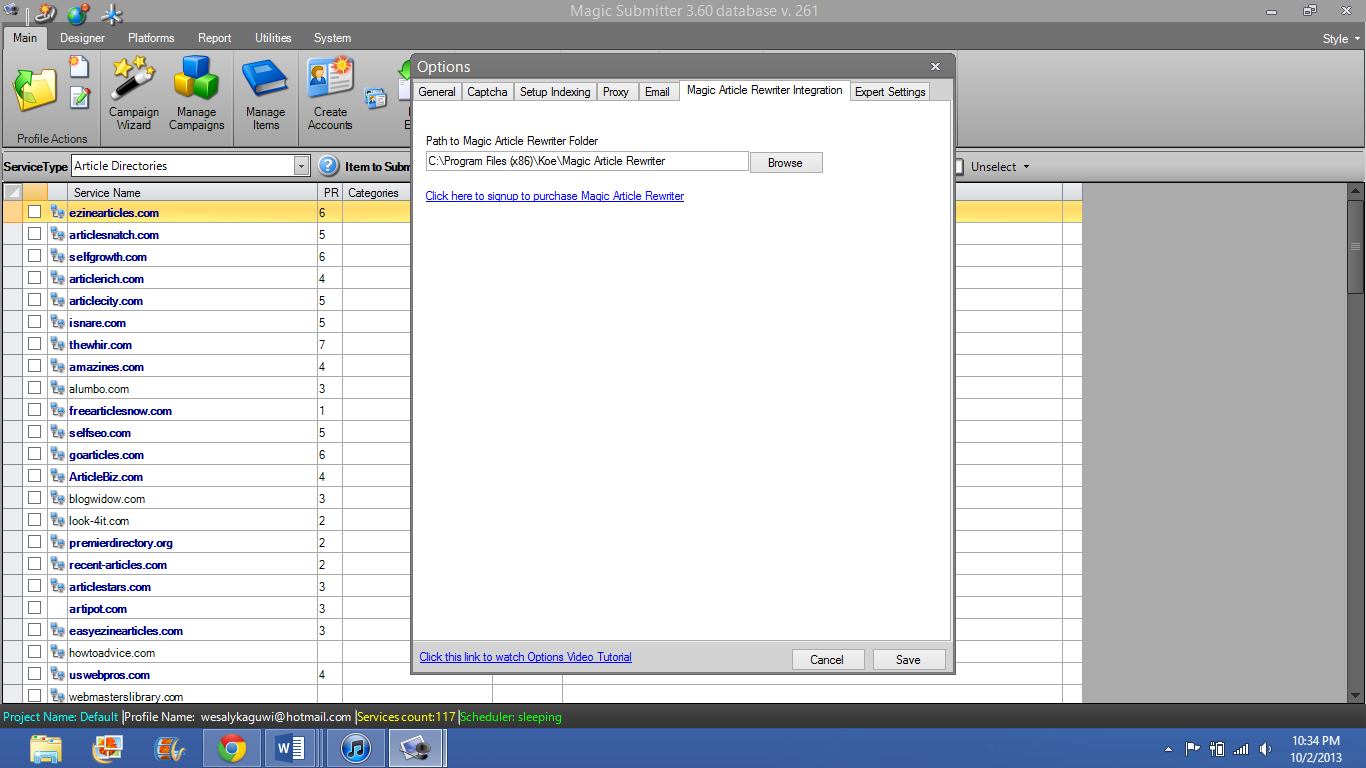 These are just the basic expenses and there can be even more, like paying for proxies and a captcha service. So if you're looking for a product that will solve your SEO needs like is claimed on the Magic Submitter sales page, you'll be disappointed to learn that you'll have to buy a bunch of other products just to get it work.
These Links Are Worthless
Another problem with software like Magic Submitter is that it uses an outdated model for how it link-builds. It basically just focuses on the number of links that your site has, without putting enough thought into anything else.
That why it still uses article directories to build links, as can be seen in the screenshot below. Each article directory is listed, and then next to it you can see the Google page rank of the directory.

This is misleading information and bad SEO for two reasons. First, it doesn't matter what the page rank of the article directory is, because that is only the page rank of the directory's homepage, and your backlink will most certainly not be on the homepage. Make no mistake: your backlink will be coming from a web page with a page rank of zero.
Second, the reason why this type of link is worthless is because the article directory is not related to your website. If you want to do serious link-building that will help your search engine rankings, you need quality backlinks from relevant sites in your niche. That is not what Magic Submitter is going to provide you with, since their focus is just on getting more and more backlinks without worrying about the quality of the backlink itself.
Conclusion: No Magic At All
Alex Krulik would like you to think that Magic Submitter is the solution to all of your SEO needs, but the reality is that there is nothing magical about it at all. You face a serious risk of being penalized by Google and being completely removed from their index. Also, you're going to face a lot of extra costs from high-priced products needed in order for Magic Submitter to function properly. Even worse, a lot of these backlinks won't even help you, because they are coming from low-quality sites that aren't related to your niche.
Join The Discussion
Do you think Magic Submitter can live up to its bold claims? Why do you think it's best to stay far away from any link-building automation software? Share your opinion in the comments below!